Emergency Services
If you are experiencing a life-threatening emergency, call 911 immediately or go to your nearest emergency department.
When a medical emergency happens to you or a family member, you should know where to go and who to call. At CHA Hollywood Presbyterian Medical Center, we know accidents happen and people get sick, so here's some information if you ever need to use our Emergency Department.
How to Find Us
The Emergency Department at CHA Hollywood Presbyterian Medical Center is conveniently located on the corner of Vermont Avenue and Fountain Avenue. Our ER is open 24 hours a day, seven days a week.
ER at Hollywood Presbyterian Medical Center
Corner of Fountain and Vermont
About Our Staff
Each member of our qualified medical team has the skill to deal with a variety of emergencies. Our physicians, nurses, technicians, and staff are specially trained in emergency medicine. Several members of our staff are multi-lingual which allows them to be even more responsive and sensitive to the diverse cultural needs of our community.
Stroke Care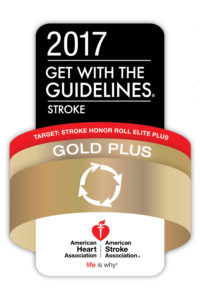 CHA Hollywood Presbyterian Medical Center has earned the Get With The Guidelines® – Stroke Gold Plus Quality Achievement Award and also qualified for recognition on the Target: Stroke Elite Plus Honor Roll. This award recognizes our hospital's commitment and success in implementing a high standard of stroke care by ensuring that our stroke patients receive treatment that meets nationally accepted, evidence-based standards and recommendations.
Our hospital earned the award by meeting specific quality achievement measures for the diagnosis and treatment of stroke patients at a set level for a designated period. These quality measures are designed to help hospital teams follow the most up-to-date, evidence-based guidelines with the goal of speeding recovery and reducing death and disability for stroke patients.
Priority of Care
It is our goal to provide you with quality emergency medical care. Through a process referred to as "triage," every patient is initially evaluated by a registered nurse so we may determine the severity of your condition.
There are times when treatment in the Emergency Department may not be given on first-come, first-served basis. There are also times when you may not see patients arrive by ambulance and who require immediate attention. Because our busiest times are not always predictable, waiting times can vary.  Your patience and understanding are appreciated.
Emergency Services are provided to all who present themselves for care regardless of financial status, race, education, nationality, or disability. Patients arrive via walk-in, private ambulance or city rescue ambulances.
Separate Hospital Bills and Physician Bills
The hospital and each physician you encounter as a patient will bill separately.
Hospital bills cover your services at CHA Hollywood Presbyterian Medical Center. We will bill your insurance carrier directly. We also offer multiple payment options for the amount that is your personal responsibility. Choose the method best suited to your circumstance and contact us to discuss other financing options.
Each physician that provides professional services during your stay will send you a separate bill. This applies to specialists who may have visited you in the hospital or provided services in the Emergency Room as well as anesthesiologists, pathologists and radiologists.
To determine your financial obligation for services rendered under your coverage, please call 213-413-3000, ext. 6248 or ext. 4950 between 9:00 a.m. – 5:00 p.m., Monday – Friday. To ensure that billing is properly submitted, it is important that you bring your insurance card and valid ID each time you visit the hospital.
Other Services We Provide:
Find a Physician
For a free referral to one of our exceptional physicians, please call Find a Physician at 888.522.3455. You can also search online.  Ready to get started?